(Start from the beginning)
(…continued from Log Entry 4)
LOG ENTRY 5:
With another achievement under my belt, perhaps it's time to do a bit of sightseeing. On my search for water, I had noted what looked like a possible hidden entrance.  I spotted that at like 50 yards too!  I have to admit, that was pretty impressive.
Upon further investigation, my initial observation is proven correct. The entrance to a bunker is nestled between rocky outcroppings in such a way as to almost blend into the surroundings. 'Almost' is the operative word here. I hear muffled voices coming from within.
Slipping closer, I piece together the situation through bits of conversation.  It tells me everything I need to know. There are raiders inside. Everyone hates raiders, so this isn't even a decision. A quick stretch to loosen up, then a weapons check, and I'm ready.
I kick the door in, 'Pop' (my pistol) starts doing its thing. I'm not sure they even realized I was here before 'Pop' handled the situation, which is perfect, because it's so much better that way. I hate when they shoot back! Getting shot hurts… a lot!
The little raider outpost has a fair share of loot, enough to engage "Auto Assist" mode in my Powered Armor to haul some back to town. That little feature is a custom coded goody thanks to yours truly! It runs a bit hot, and I need to top the coolant tank off with a bit of water, but otherwise, the armor runs to a specific location in town for me and handles my business. I had tried more locations in early phases, but I couldn't get around the overheating.
I instruct the armor hauls back some building materials to Scrapton's Builder, and order the construction of an embassy (with my name on it!), using my prerecorded voice, of course. This thing isn't an AI, and that's the story I'm sticking with! The people rejoice and my legend grows. Today was a good day.
First thing the next morning… (continued in Log Entry 6)
---
GAME MECHANICS:
Round 1: Action 4
Investigate Point of Interest #4, roll d20 when directed on tab 4 of Adventure book. Option #1 "Kick in the Door" is selected for a Combat Check 8.
Spend 1 Water Ration to add a bonus d4 to the roll. First roll of 16 (14 on dice +2 bonus) is a PASS. The reward is 3 Credits, 3 salvage and a player always receives a yellow ring for successfully Investigating a Point of Interest.
Action Counter on Player Board is moved from 1 to 0 "Visit 1 Settlement Location (for 1 Water Ration)".
Round 1: Companion Settlement Visit
   (1 Location)
Once per Round, when a player has 0 remaining Actions, they may choose to send their Companion to a 1 Location in any open Settlement at the cost of 1 Water Ration. Companion was sent to Scrapton's Builder Location with 3 purple salvage (for the purple Settlement).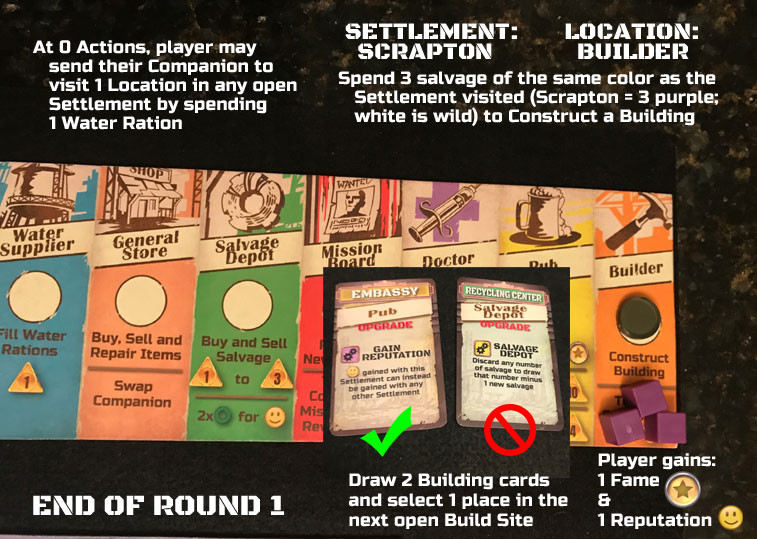 Constructing a Building gives the player 1 Fame and 1 Reputation with that Settlement. Two Buildings are drawn, and one is selected (the Embassy), then placed in the first Building Site in Scrapton. Any player that visits this Settlement going forward can benefit from the bonus provided!
---
Neon Dawn is available to play now on both Tabletop Simulator and Tabletopia, so please check it out if it looks interesting!
---