Note to Reader:  The Adventurer's Log follows "The Adventurer" Quick Start Build through an entire single player 5-Round game of Neon Dawn.  The Log Entries will revolve around The Adventurer's thoughts and adventures in a thematic manner.  If you are interested in following the mechanics of play, a Game Mechanics section will be included at the end of each Log Entry.  The goal is to release Log Entries daily… we shall see. 😉
---
LOG ENTRY 1:
I've been taking some time for myself in Scrapton to get this all going, and today is the day it finally comes together. Maybe I should start from the beginning…
I arrived in Scrapton several years ago, not a credit to my name, but it wasn't hard to find a place to crash in the scrapyard. I had to dodge a guard now and then, but I've never had an issue disappearing when I need to.
Not long after getting a foothold in Scrapton, I met a robot that quickly took a liking to me. Well, at least after I added an extra subroutine that heavily favors my objectives. What? You learn all kinds of things if you spend some time on the streets.
The robot was able to gather spare parts and components that I needed without being noticed, but it was a slow process. During that time, I took on some odd jobs and mingled a bit with the locals, gaining a little bit of a name for myself. Now local celebrity status is great and all, but I'm not settling for anything short of wasteland legend.
That brings us back to today. The robot has gathered the last of the components needed to assemble the Powered Armor that I have been building. With my armor done, I grab my trusty crowbar, 'Snap', and my even trustier pistol, 'Pop', pack some extra water (because I get thirsty a lot) and an old survival guide, then head out of town to fulfill my destiny. I mean, I've always known where I was headed.  Soon everyone else will too.
When I reach landscape that I no longer recognize, I smile. Today is the day that my legend begins.
I had passed… (continued in Log Entry #2)
---
GAME MECHANICS:
Initial setup (Fame board, Settlement Boards, components nearby)
Player Board set up using "The Adventurer" Quick Start build.  (Ignore my hack image combining! 😉 )
Random Settlement selected, Scrapton for this game.  World Map built out around the starting Settlement, and Settlement set up.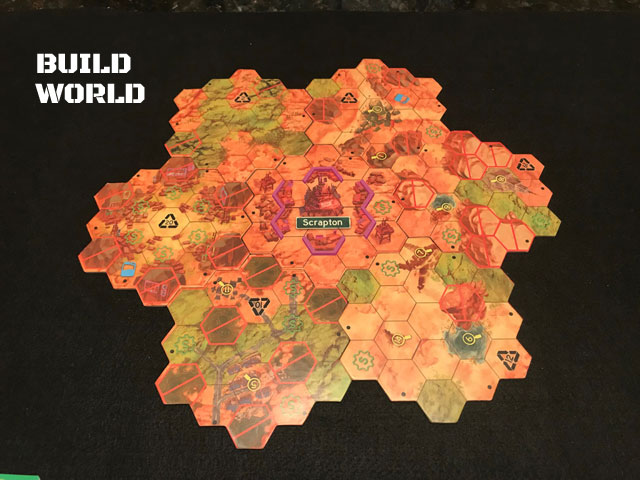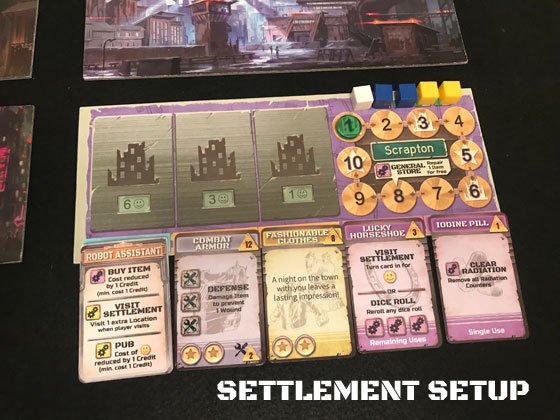 Player Pawn spawned into the world.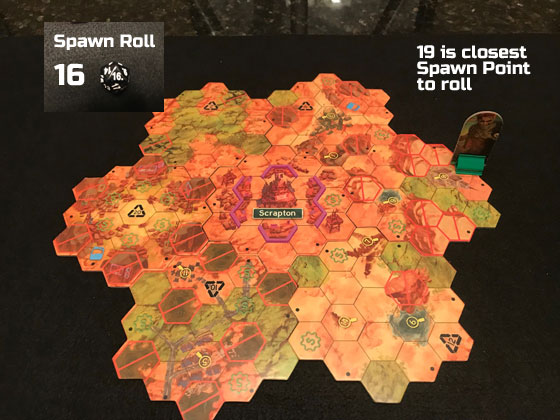 ---
---