(Start from the beginning)
(…continued from Log Entry 2)
---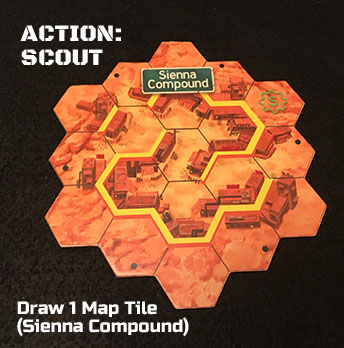 LOG ENTRY #3:
I suppose now it is off to unfamiliar lands! Anything could lie just over the horizon, and there's only one way to find out. I choose a direction and begin walking.
It's not long before I spot a settlement in the distance. Judging by the sheet metal walls, and the maze of tunnels and catwalks crawling into and along those walls, this must be the infamous Sienna Compound. Time to make an impression!
As I approach, I begin to hear the angry yells of a crowd, then a man darts around the corner at full speed, a bundle of rags in his arms. He is running directly for me, and as he approaches, I see the crowd round the corner, led by a few law men. A quick forearm stops the running man, and the crowd makes a quite a commotion over the heroic act. I just got here, and I'm already building my rep!
Inside, many tough-looking men and women are conducting business, signing contracts and collecting bounties. I get the impression that soft people don't visit Sienna Compound too often. Well, while I'm here, I may as well take a look around. I've got a few Credits to spend.
A quick stop at the General Store nets me some trail mix, perfect for those long days in the waste! I just get that feeling that I'm going to be happy to have some extra food around. It's nice to know there's another friendly refuge from the dangers of the waste.
I'll stop by later, but for now… (continued in Log Entry #4)
---
GAME MECHANICS:
Round 1: Action 2
The Scout Action uncovers one Map Tile, which was Sienna Compound, and the scouting player may place it in any orientation that lines up with the black alignment dots on the board, and is adjacent to the player pawn.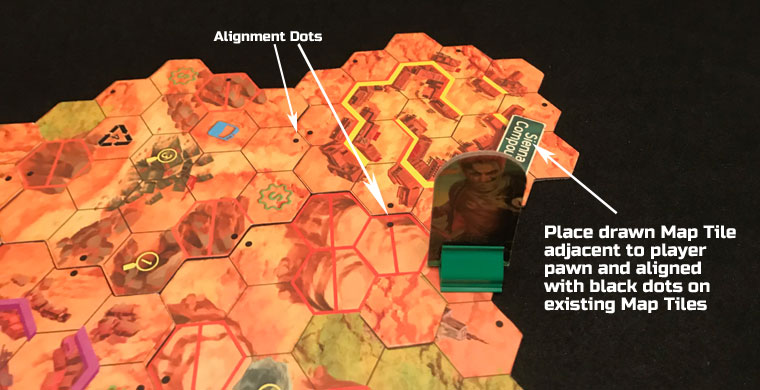 When a player discovers a Settlement while Scouting, the new Settlement is set up, and that player gains 1 Reputation with all discovered Settlements.
The Scouting player also has the opportunity to visit 1 Location in the Settlement, shown on the Visit Settlement board. The General Store location was selected, and the Trail Mix Consumable was purchased for 2 Credits.
Action Counter on Player Board is moved from 3 to 2.
---
Neon Dawn is available to play now on both Tabletop Simulator and Tabletopia, so please check it out if it looks interesting!
---
Tagged with: